NZ Duck Shooting Season - Opening Weekend 2016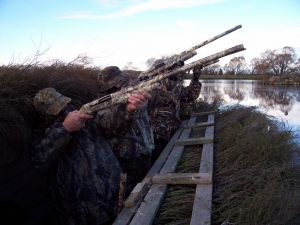 The New Zealand duck shooting season starts each year on 'opening day', the first Saturday in May. This is when most hunters take part and most birds are shot. New Zealand Horn and Antler is proud to offer their clients the opportunity to experience the finest wing shooting a waterfowl hunting you could hope for.

If you are serious about waterfowl hunting you won't find a better place to hunt than New Zealand.
We have large numbers of birds and the best part is our daily bag limits.
Each hunter can shoot up to 50 ducks per day and no limit on geese.
We have a 3 month season May to July so even if you don't make the opening weekend you can still enjoy some waterfowl shooting mixed in with your big game hunts.