Don, Kate, Brett Thompson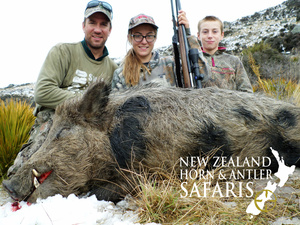 Wanted to send a quick note to thank you again for a great trip. Brett, Kate, and myself had an awesome time hunting with you this past August. Both kids have memories to last a lifetime. We knew the weather was going to dictate the hunting; but despite record NZ snowfall, the hunting still exceeded our expectations. We covered a lot of the South Island and hunted some beautiful and varied terrain. Thanks again to both yourself and Jenny for the top shelf hospitality and to you for the hard work to get some well earned NZ trophies.

Kate wanted me to pass on this note:
"I really enjoyed how much I learned about NZ's culture and history while we were there. The variety of hunting spots was great and we got to see so many amazing animals and some breathtaking scenery. Making that long shot across the gorge on that wild boar was a real confidence builder for the rest of the trip. I definitely enjoyed the entire trip and would go again in a heart beat. Thank you."