Tom & Kathy Dabbs - USA, First Trip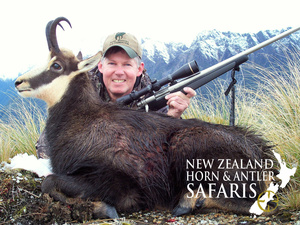 We had an incredible time while in New Zealand and we can't imagine having better hosts than the two of you. Craig went above and beyond what was expected to ensure that I had the hunt of a lifetime.

My Tahr and Chamois hunts were outstanding. Each time I walk by my mounted trophies I'm flooded with great memories of our time in New Zealand. After the big game hunts were over, I thought it was time to kick back and relax. Craig had other plans. In the mornings and afternoons we went waterfowl hunting. I was able to get a beautiful pair of Paradise Ducks and a Black Swan along with the many ducks and geese. Great waterfowl hunting, far better than I expected. In the evenings we were off after the Wallaby's. Great side trips after the main hunt is over.

We can't wait to come back. I believe I left some unfinished business. I would love to come back for Red Stag and Fallow Deer along with some more of that fabulous waterfowl hunting.

Kathy's sightseeing trip with Jenny was beyond compare. She saw many beautiful sights and took so many incredible photos. New Zealand is truly a photographers paradise. Kathy especially enjoyed the spa trip, the mountains and glaciers. She also really enjoyed the Milford Sound boat cruise along with the seals and blow-holes along the coastline. Jenny was very knowledgeable of all of the best sites on the island. I'm sure there are still many beautiful sights left unexplored. So much to do with so little time!

Often in times it's very awkward when you're in a situation where you spend a great amount of time with someone you've never met in person. Craig and Jenny made this potentially difficult situation so easy. We came together as strangers but left as friends. They were so easy to get to know and very accommodating. Craig even overlooked the many times I tried to get in on the wrong side of the vehicle. I was able to get past him driving on the "wrong" side of the road.