Rick Johnston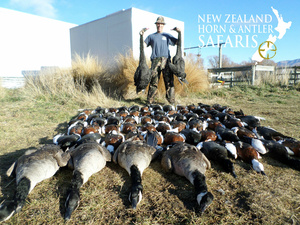 Only a great guide could put together a great duck hunt with such little notice. I emailed Craig (and several other guides) less than 2 weeks before my trip to NZ in the hope that someone may have been able to help me out. Craig replied in no time that he could see me right, and how right he was.

Craig collected me from Christchurch and drove us to our hunting properties. Our accommodation was warm and cosy and Craig supplied all that was needed for our weekend hunt. I had booked a two day hunt but with plenty of daylight left after settling in on Friday Craig suggested an evening goose hunt would be possible. After discussions with the local farmer we set out the decoy spread and waited."here we go" Craig whispered as the geese headed our way. A small mob of 15 or so winged straight into our spread and we were able to bag four.

Saturday saw us up early to head out on a "Pari" hunt. We had scouted the area the day before to check the birds were still in the paddocks Craig expected. We didn't have to wait long Saturday morning, the Paradise ducks arrived in singles, pairs and mobs of 30 and more.
This proved to be the case for the rest of the weekend as well. We hunted many different locations and the ducks came to them all. Good scouting on Craig's behalf ensured we were in the right spots.

In Australia I can do my own scouting and arrange my own hunts but for hunting NZ I recommend placing your trust in Horn and Antler(should be Feather to) for a great kiwi duck hunt.

Rick Johnston
Aka, Bush from Foolin With Foxes.